Price Media Law Moot Court Regional Rounds in Kyiv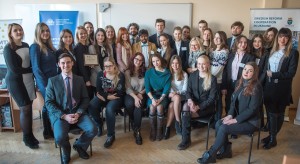 CEDEM in partnership with National University "Kyiv-Mohyla Academy", Kyiv-Mohyla Moot Court Society and Oxford University have hosted the annual North East Europe Regional Rounds of Price Media Law Moot Court. This is the first time this competition is organized in Ukraine. Current activity is supported by Swedish Government.
Moot court is an international competition for lawyers, that simulates a court hearing, where participants preparing written submissions and then present them as oral arguments.
This year, 7 teams from Ukraine, Latvia, Lithuania, Belarus and Georgia have participated in the competition. Moot Court was attended by teams of National University "Kyiv-Mohyla Academy", Odesa Law Academy, University of Latvia, Vilnius University, Belarusian State University and Free University of Tbilisi. The participants have faced with the case of a blogger, accused of incitement to violence and extremist speech.
"It was our first experience in organizing an event of such importance. Seven teams from five countries competed for possibility to go to Oxford and leading media law experts acted as judges. We are very grateful to our partners from National University "Kyiv-Mohyla Academy" and Kyiv-Mohyla Moot Court Society. I hope that today we established a great tradition and Regional Rounds of Price Media Law Moot Court will gather more participants and experts every year", – noted Alina Pravdychenko, head of educational projects in Media Law Institute.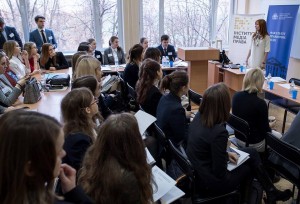 After two game days, students of University of Latvia won the competition, by defeating the team of National University "Kyiv-Mohyla Academy". As judges said, the contention was very harsh and the leader was hardly known until the very end.
Both finalists granted the possibility to participate in International round. Semifinalists from Odessa Law Academy and Vilnius University also can go to Oxford.
"We are very glad to organize this round. The level of competition was high enough: we played with all semifinalists and they all were equally strong. In is known that participants of regional rounds have notably better results in Oxford. I also want to highlight the work of judges. My experience shows that problems are possible during this rounds but we avoided it", – stressed Maksym Dvorovyi, lawyer of CEDEM and coach of Kyiv-Mohyla Academy team.
He said that among the main goals of these competitions is the engagement of new teams. Thus, the result of Odesa team, who qualified to international rounds, is an especially good fact.
Additionally, participants attended at the professional media law lections. Karmen Turk, partner of TRINITI law firm, told about the responsibility of online media that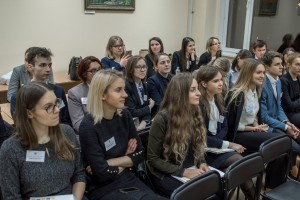 allows the users to create a content. She stressed that the hate speech can be hardly distinguished from rude phrases, which makes these cases an interesting challenge for media lawyers.
During the second lection, Andriy Rihter, senior adviser and former director of the Office of the OSCE Representative on Freedom of the Media focused on war propaganda and told how the UN and governments resist the propaganda.