July 2, 2016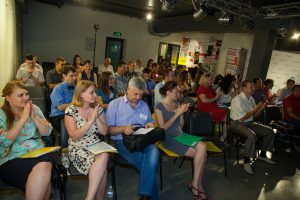 17 successful projects were selected and presented their results to their fellow activists during the Forum on July 1-2, 2016. Presented work confirmed that the problems in the country exist and many of them need to fight.
To give an idea of what concerned in Ukrainian regions, here are some topics of presented projects:
land seizure and illegal allocation of land;
misuse of budget funds;
irregularities in public procurement;
fraud in school canteens;
use of tax havens by officials to conceal doubtful earned money, such as Bangladesh;
judicial and prosecutor's tyranny;
abuse of notaries;
theft and negligence in the repair of roads; inflated prices in housing; violations of medical care;
discrepancy between bureaucratic declarations and flaunting with their expensive cars and expensive houses;
extortion of money in schools and kindergartens.
Each of the above named projects and investigations were the acts to influence the authorities. In some cases, through investigative journalism, others – through access to the courts or public gathering.
The photo report of the Forum Day1 can be found here.
The photo report of the Forum Day2 can be found here.