June 8, 2017
More than 85% of drivers in Ukraine do not use seat belts, violating the Road Traffic Rules and endangering their lives and health. Such results showed the study 'Level of Using Seat Belts among Drivers in Ukraine', made in spring 2017 by the public organizations under the  Campaign "For safe roads" .
Researchers made measurements in 20 cities of Ukraine, and found that in none of these cities even half of motorists do not use safety belts. The best of the worst performers are in Kyiv (37.9% of fastened drivers), Dnipro (30.6%), Lviv (25.4%) and Pavlograd (21.4%). A large group of cities has an index of use between 10% and 20% – it is Kharkiv, Krivoy Rog, Uzhgorod, Ivano-Frankivsk, Rivne, Kropivnitsky, Ternopil, Zhytomyr and Chernihiv. Less than one in ten use safety belts in Kherson, Chernivtsi, Vinnitsa, Nikolaev and Khmelnytsky. There are also two small cities that have been included in the study – Dolina and Tulchin – extremely low rates.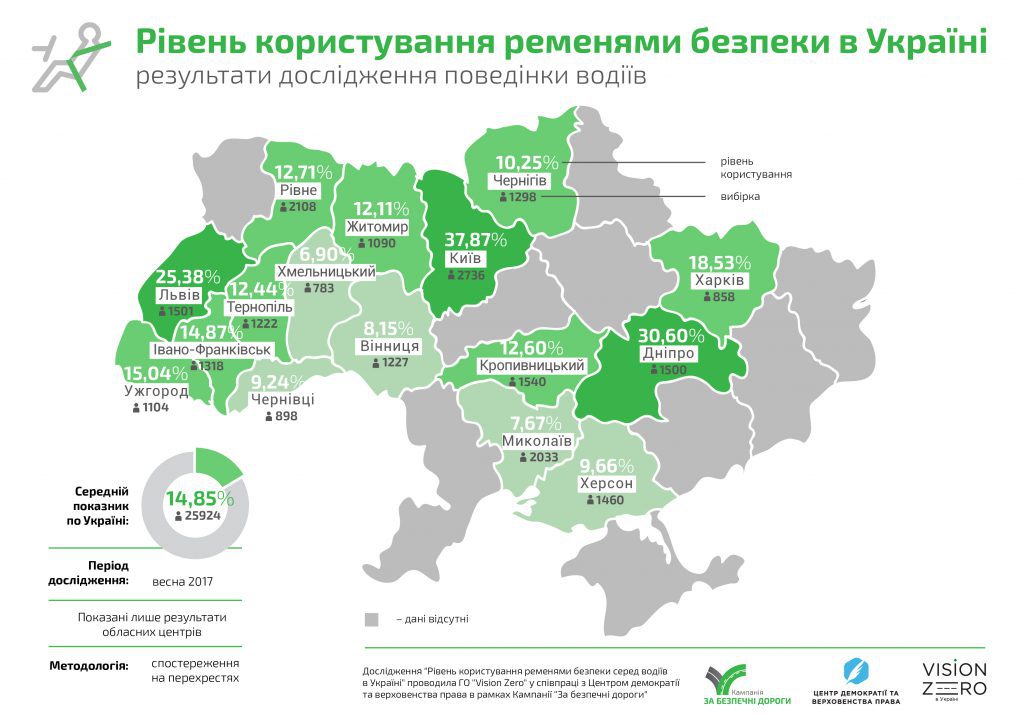 Ukraine's rate of 14.85% is an average result of the using the safety belts in the 20 studied cities; it does not take into account the countryside and differences in the number of population between cities. The study, according to the methodology, included all passenger cars (including taxi cars, police and other special vehicles) and non-route minibuses. Cargo trucks and public transport were not included.
The study 'Level of Using Safety Belts among Drivers in Ukraine' was made by the Vision Zero public organization in cooperation with the Centre for Democracy and Rule of Law within the framework of the Campaign "For safe roads" in March-May 2017. The purpose of the project was to find out which part of the car drivers in Ukraine actually use safety belts, observing the relevant paragraph of the Road Traffic Rules. The study was made in accordance with the recommendations of the World Health Organization by the method of monitoring motorists. Observation sessions were held in 20 cities of Ukraine, including 16 regional centers.
Reference: Increasing the level of using seat belts in Ukraine is one of the objectives of the Campaign "For safe roads". The leaders of the public organizations and people's deputies have already voiced proposals to raise the level of a penalty for this violation from UAH 51 to the estimated cost of one refueling vehicle, that is, at least up to UAH 1,000. They also ask the police to launch the targeted campaigns to detect drivers who do not comply with the rules on the use of seat belts in a car, and to actively cover these campaigns in the mass media so that the participants could feel that the state controls compliance with this rule. In addition thereto within the framework of the campaign, an educational video "Fasten Seatbelts" was made, which has already been watched by more than 150 thousand people on the Internet, and it is scheduled to be broadcast on television.