July 2, 2016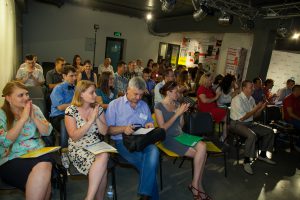 Lab of Active Citizens, the nationwide project organized by the Centre for Democracy and Rule of Law (CEDEM) in partnership with the Reanimation Package of Reforms is running to its end. It was designed as a nationwide anti-corruption school of civic activists. There were 30 regional trainers selected on a competitive basis, who underwent 9-days a three-step training programme in Kiev. National NGO leaders, lawyers, journalists, experts and academics shared their theoretical and practical experience in fighting corruption with regional trainers. Having acquired knowledge of how effectively detect corruption, regional trainers went to share their experiences with fellow citizens in their regions. The experts and lawyers of CEDEM helped and supported them in accomplishing this goal.
From November 2015 to June 2016 the coordinators of the project and CEDEM lawyers visited 16 regions three times, having travelled 40 000 km in total. There were 48 regional seminars attended by over 752 activists from villages, towns, cities and regions of Ukraine and attracted 100 experts. Activists practiced how to get access to public information, use online registers, write investigative journalism, avoid accusations of defamation, communicate and cooperate with law enforcement and others.
The main achievement of the Lab was that the school managed to build a nationwide network of citizens who not only do not accept corruption, but also can effectively fight it. Moreover, it is also important that by exchanging their experiences, the representatives of various regions significantly increased efficiency of each other.
At the final stage of the 8 months-long anti-corruption school a contest for the best anti-corruption project among the participants was announced, the results of which were presented at Forum in July 1-2, 2016.
The whole article in Ukrainian can be found here.
The photo report of the Forum Day1 can be found here.
The photo report of the Forum Day2 can be found here.