January 10, 2019
On December 31st 2018 the term has expired for transformation of national and municipal media into independent editions. Starting from January 1st 2019 state and local self-government authorities has no more rights to be a founders of printed word media and spent budget funds for promotion of their own activity in their pages.
Realignment of media is one of the key media reforms in Ukraine, which is intended to provide independence of media from public authorities. It is a basis for democracy functioning and qualitative informing of society, in particular about political processes in the country. Implementation of reform was the Ukraine`s international duty to the Council of Europe. Centre for Democracy and Rule of Law for many years was engaged in destatization advocacy and worked on development of the Law about realignment of state and municipal printed media, which was finally agreed on December 24th, 2015. For the duration of reform, we have watched for its dynamics, provided advices for editors concerning realignment, analyzed system issues arising during transformations and offered proposals of its solution through the development of legislative changes.
Active stage of printed media realignment on which three years was assigned from January 1st 2016 till December 31st 2018 has ended. It means that founders of all state and municipal printed word media wishing to continue issuance should reform publications till the end of 2018. Now it is for Ministry of Justice to decide indeed from January 1st of this year the second stage of reform has commenced – cancellation of certificates of registration for those printed media which were not transformed into independent bodies.
As of January 1st 2019 424 newspapers from those 762 having been under the Law about reformation has fulfilled actions required for transformation. 401 municipal and 23 state ones among them. Rest 338 magazines should stop publishing. The most percentage of issues was reformed in Mykolaivska, Poltavska, Zhytomyrska and Kirovogradska regions.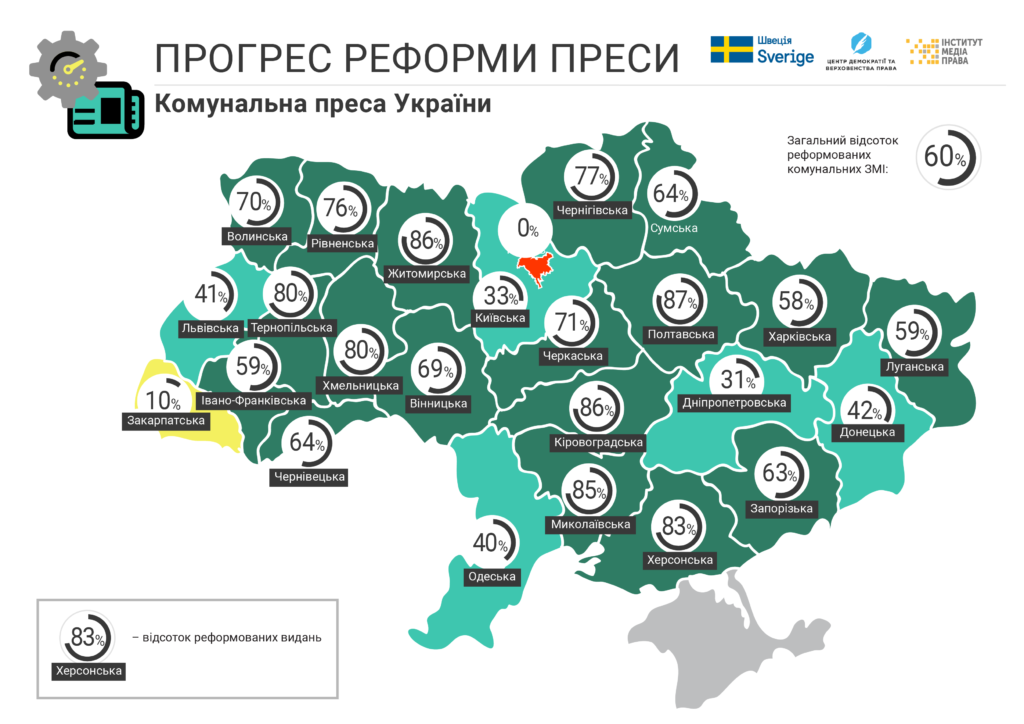 In accordance with Law about reforming, a failure to submit an application to the Ministry of Justice regarding reregistration of printed media by its founder (co-founders) before December 31st 2018 is grounding for holding a registration certificate of such newspaper invalid. It is interesting that legislation sets initial term of this process but has no final term for taking such measures by registrar. As explained by State Television and Radio Committee, Ministry of Justice takes soft stance concerning cancellation of printed media certificates which timely applied for registration. In the same time, the viewpoint regarding  mass media which never got round to send correspondent applications to the Ministry of Justice, is left unclear.
CEDEM has sent request to this authority in order to find out about exact planned terms of cancellation of certificates for those state and municipal printed media, which were not transformed in accordance with the Law about reforming.
You can check the dynamics of reform here.