December 4, 2018
On December 1st-2nd the Centre for Democracy and Rule of Law has conducted a training for lecturers of journalism faculties. Media experts have talked about copyright, journalists` protection, media legislation and law novels, coverage of elections and other.
15 lecturers from 11 universities took part in training. Thus, they will be able to pass the knowledge to their students. The topics of training except pure practical issues were also fundamental issues of media field – Internet regulation in particular. Because lecturers at the same time deal with research activity and mentor new generation of journalists in media agenda. Event became possible due to financial support of Sweden.
In that way, first topic of training was regulation of the Internet in Ukraine. As such, for now there are no separate law acts to regulate Internet platforms. However, as Ludmyla Opryshko, the media lawyer of NGO «Human rights platform» said, government has a range of liabilities in this branch and should support international standards.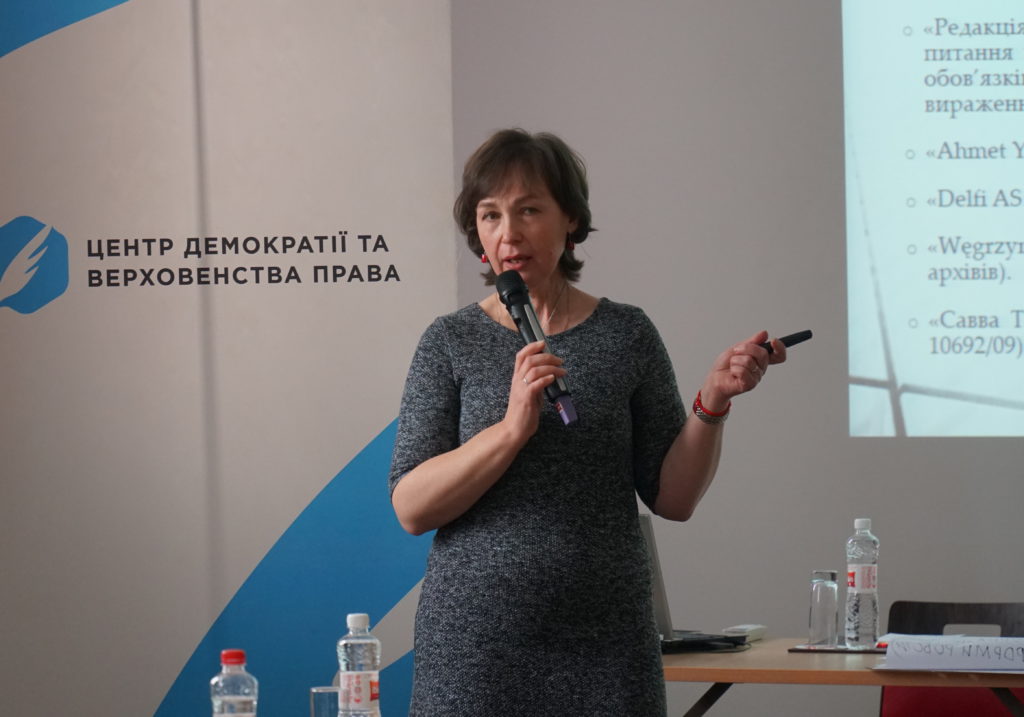 «State should take measures for providing free access to the Net and non-discrimination, the right for privacy and anonymity always has to be protected. Children and youth should be protected from harmful information. At this Internet should for sure left the source of information. It is important for journalists», – she pointed. Media workers also could align themselves with ECHR cases regarding freedom in the Internet.
At the same time, the description of a journalist is specified at least in three laws. But the general thesis is that a journalist can be called only a person who has a license.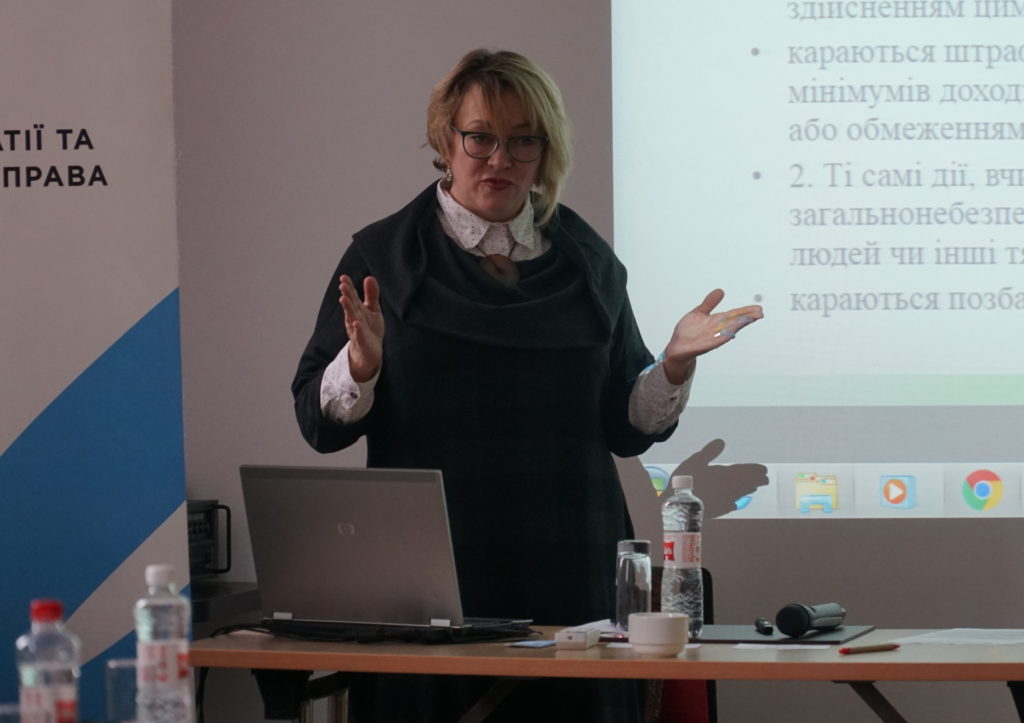 Ludmyla Pankratova, media lawyer of the Institute of Regional Press Development (IRRP) has told about legal protection of journalists. Sure according to the data of National Police there are 300 criminal cases open concerning obstruction of the legitimate professional activity of a journalist and this trend grows.
For more visual reference lecturer together with participants reviewed practical case on the topic of journalist`s behavior during taking and avoiding legal risks. There are following key rules: make photo and video from public territory (for example, from the street), you are obligated to name yourself and call yourself as a journalist, not only take a video but also announce your actions. And you must call the police in case of activity obstruction.
«Journalists has right for non-disclosure of their sources of information», media lawyer reminded. This principle was discussed at example of one more known situation: attempt of Prosecutors Office to gain an access to the phone of editor-in-charge of Natalka Sedletska`s «Schemes».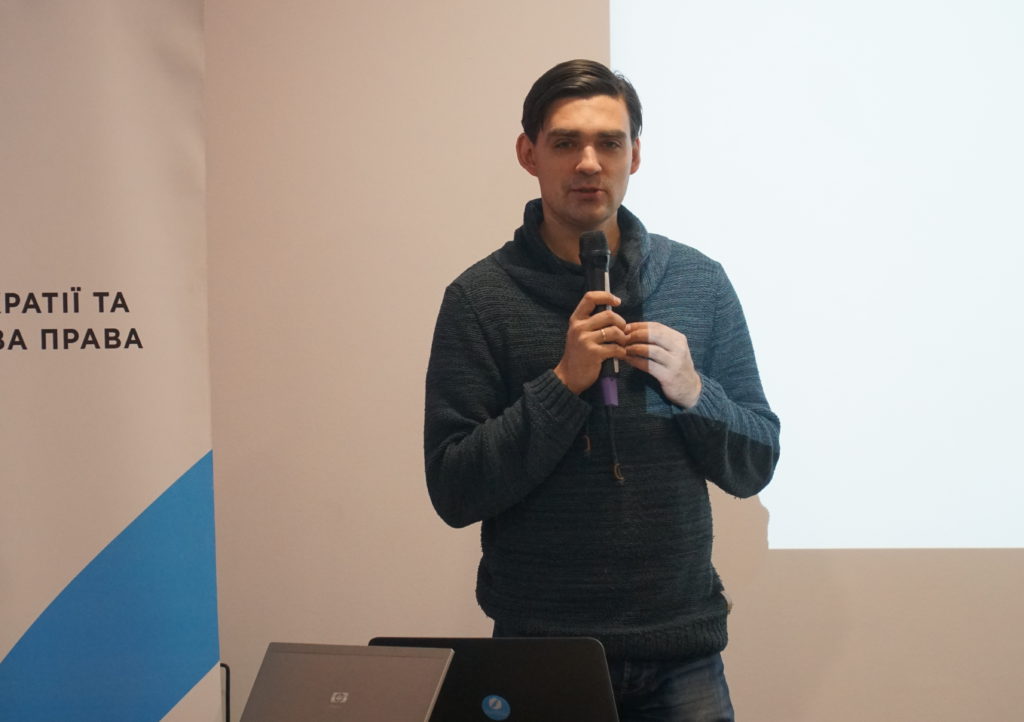 How the elections coverage is regulated and what changes in media legislation should be waited? That was the topic of Igor Rozkladai`s lecture, the lawyer of CEDEM. According to his words the media part of legislation is changing very slowly in opposite to elective one. The expert stipulates that the most harmful is appearance of political advertising. These shoots doesn`t explain to elector what exactly candidate offers but acting just as component of emotional affect.
«As for media legislation legal acts in a field of audiovisual media should be coordinated by us with legislation of European Union. There are such changes introduced into the law about television and radio broadcasting as expansion of authorities of National Council, protection from Russian content and language quotas», he stated.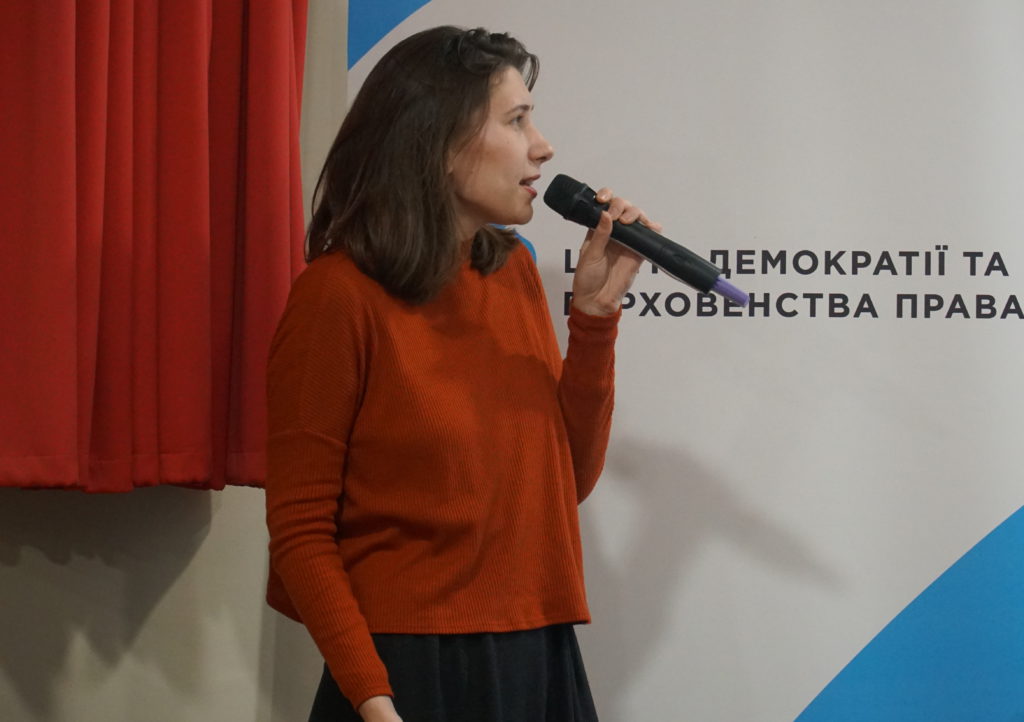 Advertising branch will also be changed. For now there are at once several laws-in-draft changing advertising market. According to the words of Yelizaveta Alexiyuk, junior lawyer of CEDEM, a law-in-draft was registered this summer which prohibits discrimination by gender sign. In total, for now attention is being increasingly focused on struggle with advertising which broadcasts misogynistic representations and templates (for example, that cleaning is for women only).
«The preparation of law-in-draft regarding advertising language is also in progress. According to it, only national language could be used in advertising. However, then question arises concerning names which are the objects of intellectual property», – media lawyer mentioned. Thirdly, there are several drafts of laws targeted at limitation of advertising of alcohol and tobacco.
Training also became a site for discussion about reasonability of regulation of the Internet in Ukraine. From the one hand, it will provide restrictions for media however, online-media require introduction of clear working rules not less than television.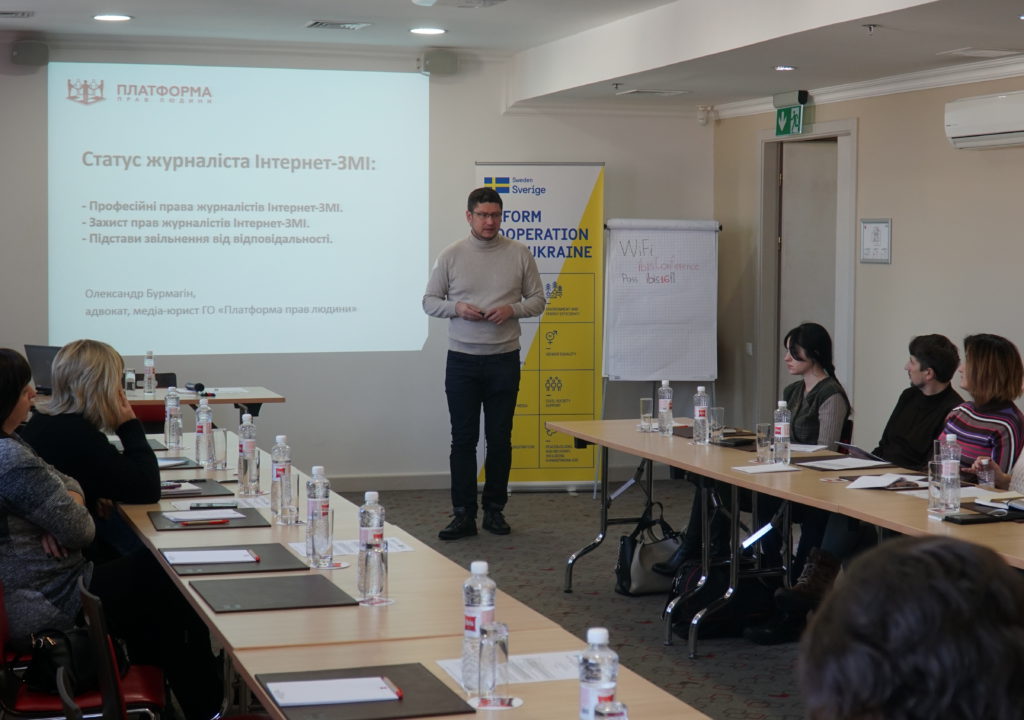 Тренінг також став майданчиком для дискусії про доцільність регулювання інтернет-ЗМІ. З одного боку, це передбачатиме обмеження для медіа, однак онлайн-медіа не менше за телебачення потребують введення чітких правил роботи.
In particular, Oleksandr Burmagin, media lawyer of NGO "Human rights platform", considers that such changes are required. «We get situation when journalists is being attacked, their professional rights are violated and the question arises whether this person a journalist. In fact online media journalists have no journalist status and journalists are not protected».
Journalistic activity means full-time work with copyright objects so lecture of Alina Pravdychenko, the head of CEDEM`s «Media right» line was dedicated to this topic. Expert has concentrated at practical cases which had relation to copyright.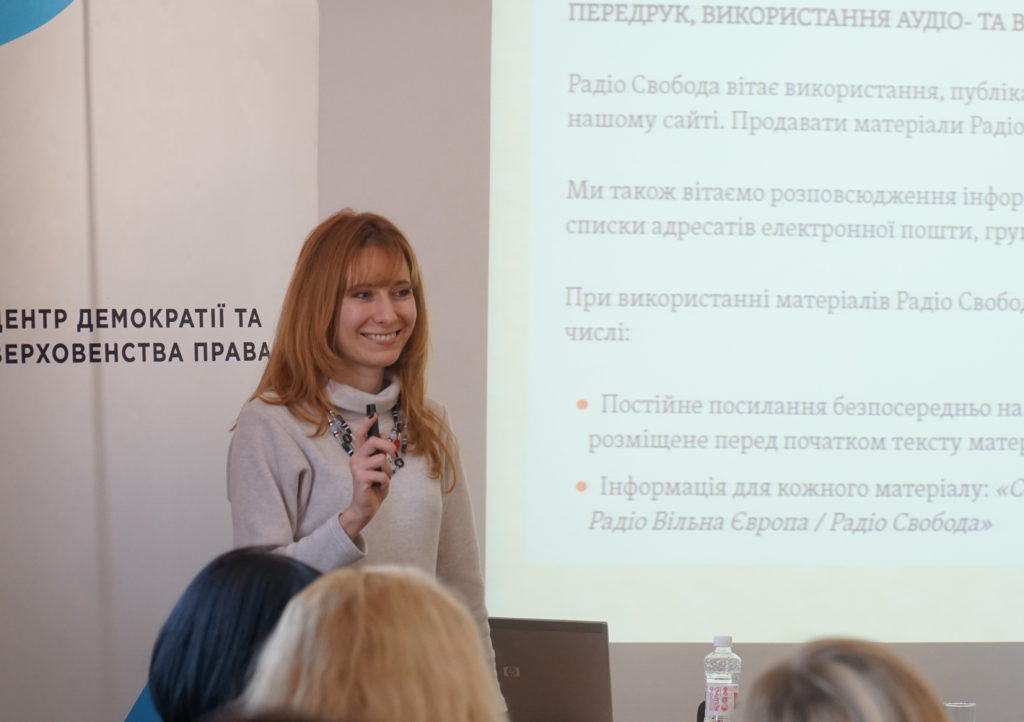 In that way, participants discussed a case with editor-in-charge of magazine who copied a text of her colleague from other publishing and claimed its as own. In particular, lecturer emphasized that Ukrainian legislation does not provide sell of texts for their publication on behalf of other person (ghostwriting). Only right for text usage could be transferred.
One more case was dedicated to quotations using. The "Inter" TV channel`s footage was considered which had use video from a concerts and private archives of a singer in material about Freddy Mercury. Hence, entitled organizations have filed a lawsuit against the channel. But court made a conclusion that components were illustration for footage and their amount was required for exploring the topic so this is the case when it is allowable to implement quotations without agree of author and subsequent proprietor and the channel did not break the law.